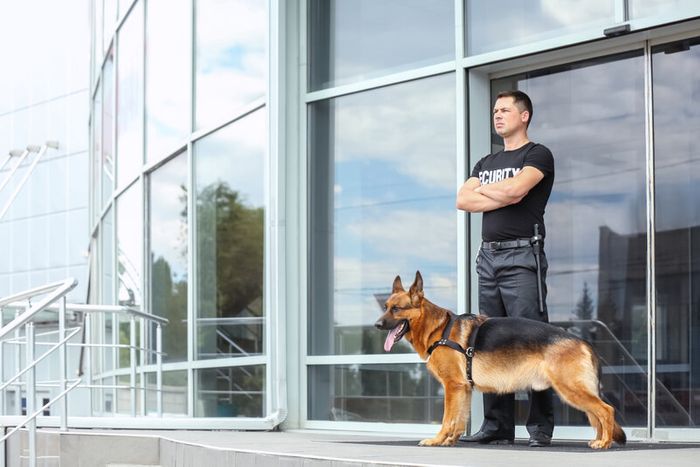 Have you ever wondered what a criminal searches for when they decide to target your company? Many times, we go about our daily lives without considering how criminal activity has evolved, how our businesses have changed, or what new security technology is available.
Consider what has changed in your company since you last had your security plan and system reviewed by one of our security experts. Consider the following questions:
Is your company expanding?
Have you done any remodeling?
Have you had any staff turnover?
Have you ever witnessed or been a victim of employee theft or criminal activity?
Do you have any new items or services to offer?
How can you determine if your present security plan and system are appropriate for your current situation?
Your XPressguards representative will do a security review of your current security system and plan, as well as ask you key questions such as:
Is it vital to have restricted access to your building(s)?
How many structures are you in charge of securing?
Are you concerned about keeping an eye on your employees?
Do you have concerns about security indoors, outdoors, or both?
Is it more important to have real-time security or something more passive?
Your XPressGuards specialist will work within your financial limitations to build an inexpensive solution based on the answers to your questions and our assessment of your current security. You only purchase what you require and avoid spending for items that you do not require.
What New Features Might Be Included in Your New Security Plan?
A full company security system can include one or more of the following services:
Alarm systems for intruders or burglars
Alarms for fires
Control of access
Live Video Surveillance
Pre-employment screenings and security officers
Alarms For Intrusion or Burglary
Burglar alarm systems have gotten even more dependable as technology has advanced. Our latest systems, which have dual Wi-Fi and cellular backup, are incredibly safe. If your company loses power, for example, your security system will remain armed and monitored, and you will be notified of the outage. Intruders cutting phone lines to cease the transmission of warning signals are likewise eliminated with Wi-Fi/cellular backup. Remote access is also a capability offered by newer burglar alarm systems. This lets you to observe what's going on in your business no matter where you are and operate your security systems from afar.
Alarms For Fires
Fire alarms that are monitored are essential for the safety of your business, employees, and consumers. In addition, fire inspections should be included in your security plan. This not only saves money, but it also frees you from having to remember to schedule inspections. When you leave it to the professionals, you can also avoid learning inspection code jargon.
Controlling Access
Check out our complete blog on hosted or managed access control (also known as keyless entry) and remember that you have options. XPressGuards Managed Access Control (MAC) can be utilized for a single or several doors at a reasonable cost. It saves time when it comes to hiring and discharging employees. It also considers staffing problems because we can manage it for you remotely! When you integrate video surveillance into your access control system, you can get a video clip or a picture if someone tries to enter your facility and is denied admission.
Live Video Surveillance
The subject of whether or not live video monitoring is required is frequently asked. It fixes a number of issues, however it's generally considered that this particular add-on is more expensive. However, technology has advanced significantly, and there are methods to reduce costs and incorporate video monitoring into a limited budget. XPressGuards can also take an existing analog system and convert it to high definition utilizing existing infrastructure, which is a huge win for people that need more but are on a tight budget! When it comes to accessing and uploading video recordings, newer camera systems are also more user friendly. These are just a few of the many innovative video surveillance alternatives available. Your XPressGuards security expert can walk you through the many video surveillance choices and help you decide which is best for your company.
Pre-employment Screening
We've gone through the many sorts of electronic security, but security officers and pre-employment screening are two types of protection that come in a distinct package. Physical manpower is often a required kind of security. It serves as a deterrent, and security guards (temporary or permanent) can respond to your mobile security requirements. For example, one of our clients experienced repeated vehicle break-ins in their parking lot, so they hired a temporary mobile patrol service to act as a deterrent for a few weeks. Employee theft is a serious risk for all sorts of firms, so if you can, set aside funds for pre-employment screening.
Your security budget might be all-inclusive or phased in over time. When you deal with our experts, you'll get exactly what you need and won't have to pay for anything you don't. You'll also have piece of mind knowing that your company – and the people who work for it – are safe without having to spend a fortune. You can book a free security review with us if you'd like to meet with one of our local sales consultants about how to improve your security and what alternatives are available. Contact us now.