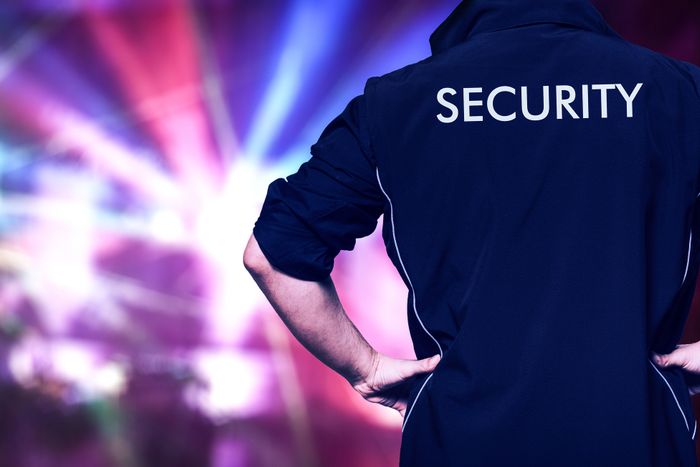 A bouncer (also known as a doorman or door supervisor, or in Britain a chucker-out) is a type of security guard, employed at venues such as bars, nightclubs, cabaret clubs, strip clubs, casinos, hotels, billiard halls, restaurants, sporting events, or concerts.
A bouncer's job responsibilities include maintaining security and enforcing the legal drinking age, refusing entry to intoxicated persons, and dealing with aggressive behavior or non-compliance with statutory or establishment rules. They are civilians and they are often hired directly by the venue, and not by a security company.
Bouncers are often used to protect bars and clubs from potential arguments or fights, or to protect nightclubs and bars from criminal gang activity or violence. At clubs that have bouncers, they are also in charge of "face control", deciding who can enter. In the US, civil liability and court costs related to the use of force by bouncers are the highest preventable loss found within the bar industry.
Many bouncers are taken to court and elsewhere, the same problems of excessive force are found. In many countries, federal and state governments have taken steps to professionalize the industry by requiring bouncers to pass training, licensing, and criminal records background checks before working.
Hire A Bouncer To Protect Your Club
Bouncers monitor a club or venue to "detect, report and correct any condition inside/outside the club" which could lead to injuries of patrons, staff or damage to the club or its equipment. With the responsibility of communicating information in the club, bouncers are in a key role within the club (e.g., regarding injuries, size of crowd outside, capacity of venue, incidents, etc.).
Bouncers control crowds by explaining club policies and procedures (by asking people not to block entrances, exits, stairwells, and other high-traffic areas). Bouncers provide first aid if someone is injured at the nightclub.
In a large nightclub, the bouncers are a part of a security team that includes friskers, surveillance staff, a doorman, and floor men. All of these security staff report to a chief of security, who in turn, reports to the general manager.
Bouncer Stereotypes
Although a common stereotype of bouncers is that of the thuggish brute, a good bouncer requires more than just physical qualities such as strength and size; they need to be able to talk to people (and remind them of the venue rules). Some people argue that the "tough guy" mentality and look of some bouncers, in which they have their sleeves rolled up to show off their biceps, has a high potential to create more fights than a bouncer who greets patrons with a "hello".
A good personality will decrease the amount of physical intervention needed, while an assertive one will prevent the bouncer from being easily provoked by guests. Bouncers need to be constantly observing crowds and individuals to identify the early warning signs of a potential confrontation with a patron, observe the signs of a heated interaction that could turn into a fight.
Professional Bouncers
Great written communication skills are typically required by bouncers because they must document encounters in an incident log, or use an incident report form. Employee incident records can keep the employer/employee completely out of any potential criminal charges or lawsuits.
Bouncers need to be polite during an venue. In large clubs, bouncers need to work with a team of bouncers, and thus they require the use of radios to stay in contact and communicate (particularly between the inside and outside of a club).
Bouncers must be watchful of each other as a matter of safety, and must ensure that when one bouncer relocates, a gap is not left in the venue security. Contact us to learn more about our bouncer and doorman services at XPressGuards.