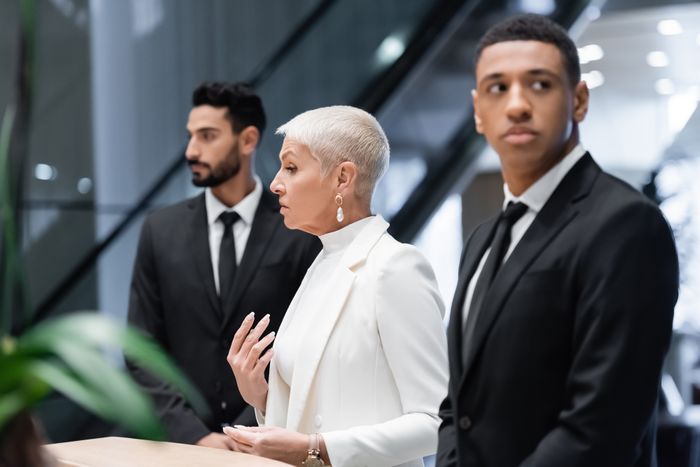 Criminals' primary targets include companies, shops, and convenience stores. More business-related thefts and crimes result from increased business activity. Physical security is equally important to the safeguarding of sensitive data. Despite the fact that technology has superseded outdated security measures, threats are growing exponentially. Even while established security systems, cameras, and surveillance systems can increase your protection, a camera cannot detain or combat the thief in the interim. Therefore, to maintain increased security at your location, you need both security guards and a security system. Therefore, guards can significantly contribute to ensuring the highest level of security.
A high level of security can be maintained and crimes can be helped to be prevented by well-trained security personnel. They can also help staff members, consumers, and clients in a variety of ways. Security guards often fall into one of three categories: corporate, industrial, or residential. Guards come in various varieties, each with their own set of duties. Whatever your line of work, you must be ready for any security dangers.
It is the main justification for hiring a security guard from a trustworthy company who is qualified and experienced to handle any situation. These organizations provide the best access control, emergency preparedness, fire safety systems, security personnel, and efficient customer service programs. Reliable, proactive, and knowledgeable about maintaining the interior and external security of residential and commercial buildings are security guards with training.
Why Employ Experienced Guards for Security?
The main advantages of employing qualified guards for the greatest security are listed below.
1. A strong feeling of security
Professional guards using guns are trained to use them safely. They can stop crimes from happening since they have received significant training to handle situations. A high level of security is guaranteed by trained guards, who can also protect your company from crooks. The guards also ensure the safety of the clients and employees. Employee productivity is improved by a safe workplace. It increases staff retention, especially for companies that sell high-end goods.
2. Possess legal weapons
The fact that professional guards carry legal weapons is one of the major advantages of hiring them. When they touch firearms, their information—like fingerprints—gets saved in the database. With the history of armed individuals, you can be even more confident that they don't have any criminal histories. Additionally, authorized armed professionals will undergo all physical checks to assure their physical health. As a result, it guarantees that they are qualified to protect and secure your company or organization.
3. Keep the workplace orderly
Security personnel are well-trained to keep the workplace calm and orderly by enforcing rules of behaviour. They can act as disciplinary officers, in other words, to keep the workplace in order and make sure everyone abides by the rules. Therefore, employing a competent security guard can improve workplace security and provide a comfortable environment for employees.
4. Enhance Customer Support
Your business can benefit from well-trained security guards by enhancing customer service. Any organization's productivity can be raised by helping clients locate relevant items and divisions. Additionally, they can assist clients even after hours and during the night. Additionally, they promote a healthy work environment and foster effective client relationships.
5. Effectively Handle Emergency Situations
Security officers receive various levels of training and are capable of actively responding to emergencies. An effective and sensible response to any unanticipated medical problems or natural calamities can be ensured by trained guards. They have good time management abilities and can actively manage several projects at once.
6. Reduce Crime in the Workplace
Security officers who have received the proper training can keep a company safe while also keeping an eye out for illicit behavior. They can reduce dangers including theft, assault, and vandalism. Additionally, they have the expertise to quickly identify suspicious conduct and take the appropriate action in this regard.
In addition, the presence of skilled security personnel will deter criminals from attacking the business. The guards are skilled in apprehending the offender without causing damage to the area's property or harming nearby residents. They are accustomed to dealing with these circumstances and can do so more effectively. Contact us for more information and request a free quote.