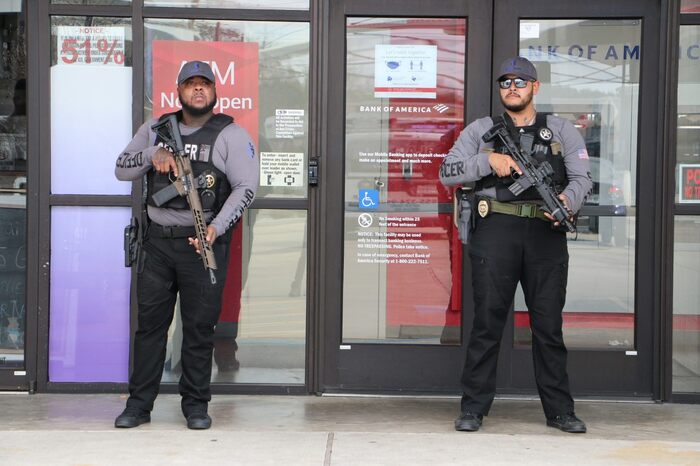 February 1, 2023

|

0
1,016
New Security Guards in California –
XPressGuards would like to welcome our new security guards in California. Our new team members include Pablo Gomez, Anton Torres, Matthew Perez and Will Wygonski.
Why You Should Hire Our Experienced Security Guards
The main benefits of hiring our qualified guards for maximum security are listed below.
1. A Strong Sense of Safety
Our professional security guards who use firearms are trained to use them safely. They can prevent crimes from occurring because they have received extensive training in dealing with situations. Our trained guards provide a high level of security and can also protect your business from crooks. Client and employee safety is also ensured by the guards. A safe workplace boosts employee productivity. It improves employee retention, particularly in companies that sell high-end goods.
2. Legally Authorized to Carry Firearms
One of the primary benefits of hiring our professional guards is that they carry legal weapons. When they come into contact with firearms, their information, like fingerprints, is saved in a database. You can be even more confident that  our armed guards do not have any criminal histories based on their background check. Furthermore, our authorized armed professionals will be subjected to all physical examinations to ensure their physical health. As a result, it ensures that they are qualified to safeguard and protect your company or organization.
3. Maintaining Workplace Order
Our security personnel are well-trained to maintain workplace calm and order by enforcing behavioral rules. They can act as disciplinary officers, keeping the workplace in order and ensuring that everyone follows the rules. Employing our competent security guards can thus improve workplace security while also providing a comfortable environment for employees.
4. Improve Customer Service
Our well-trained security guards can benefit your company by improving customer service. By assisting clients in locating relevant items and divisions, any organization's productivity can be increased. Furthermore, we can assist clients even after hours and at night. Our security guards also foster a healthy work environment and effective client relationships.
5. Handle Emergency Situations Effectively
Our security officers are trained at various levels and are capable of actively responding to emergencies. Our trained guards can ensure an effective and sensible response to any unexpected medical problem or natural disasters. Our security guards have excellent time management skills and can actively manage multiple projects at the same time.
6. Reducing Workplace Crime
Our security officers, that have received the necessary training, can keep a company safe while also on the lookout for illegal activity. Our security guards can reduce risks such as theft, assault, and vandalism. Furthermore, we have the expertise to quickly identify suspicious behavior and take appropriate action.
The presence of our skilled security personnel will deter criminals from attempting to attack your business. Our guards are skilled at apprehending the offender without causing property damage or harm to nearby residents. Our security team is used to dealing with these situations and can handle them more effectively. Please contact us for more information about our services.