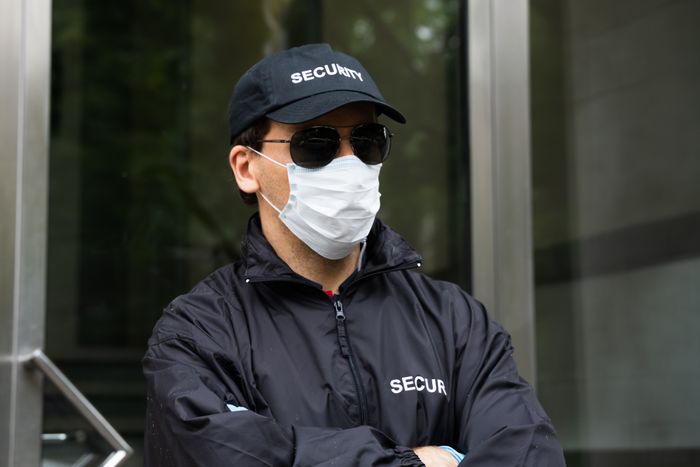 Complex and Building Security Guards
There are numerous reasons why you might require security officers in your business office. We've listed some of the most common reasons for needing protection or guarding in a professional setting below.
Vandalism and Crime
Perhaps the area in which your business is located has a high crime rate, and you'd like to be prepared in case of vandalism or other minor crimes in the area. Large parking lots are a haven for criminals. A security officer patrolling the parking lots can help keep cars, people, and property safe.
Employee & Vendor Theft Control
Employee theft is a problem in many industries, despite our best efforts to believe otherwise. Having security guards on staff can help reduce employee or vendor theft because people are less likely to steal if they know someone is watching them.
Concern about the Police Response Time
If you live in an area where the police force is overburdened and understaffed, security guards can help provide an extra layer of protection and, if necessary, extra time until reinforcements arrive.
Plans for High Traffic Visitation
If your building frequently receives visitors, whether they are vendors, guests, or potential employees, it is critical that you have a visitation plan in place to avoid any problems that may arise from having non-employees on the premises.
Issues with Your Existing Security Systems
High-tech security systems can be expensive to buy and maintain. Security guards provide many of the same benefits as electronic systems, but without the risk of "malfunctioning."
Sensitive Information Security
Certain businesses contain sensitive information that, if made public, would be harmful to one or more people. Security guards can assist you in safeguarding this information. Potential robbers are less likely to target a building with security officers on patrol.
24 Hour Building Security Guards
If your company has different shifts, some employees may work late into the night. It is far safer to have security guards walk your employees to their vehicles and provide personal protection as needed. Enlisting the security services of XpressGuards for your office building will ensure a safe environment as well as the protection of your property and resources.
Having our Office-Complexes security guards on duty around the clock provides owners and managers with peace of mind. In all 50 States, our highly trained office security guards work hard to avoid damage and loss while also deterring criminal activity.
The security plans for a single-tenant office building differ from those for a multi-tenant property. Furthermore, multi-tenant office buildings will house businesses with varying security requirements.
Custom Security To Fit Your Needs
There are no standard security programs that can meet the needs of all office buildings. XpressGuards provides security programs that are tailored to each complex based on a risk assessment. We provide impeccable services at a very competitive, if not the lowest in the nation.
We understand that your venue necessitates security officers who will appropriately represent you, as well as be knowledgeable and friendly while maintaining a professional demeanor. Furthermore, the presence of a professional security officer makes employees feel safe, which is critical for businesses that rent office space. Our office security guards are well-trained, licensed, and bonded. Contact us for more information and request a free quote.