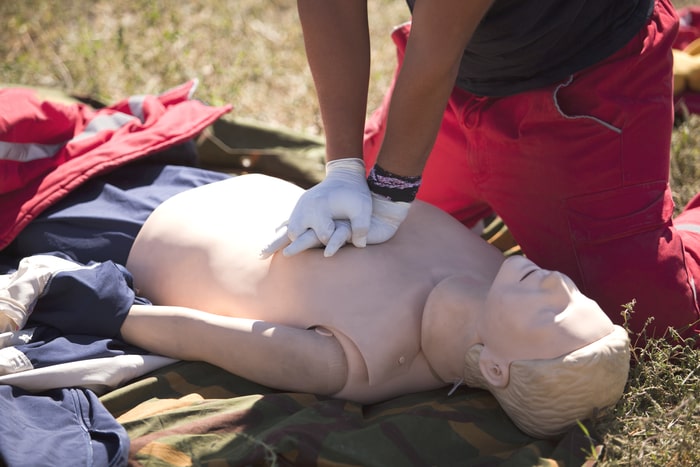 Emergency First Aid Security –
First aid services have always been an absolute necessity in the workplace. Even the most fundamental knowledge of first aid can save a life when a victim is unconscious or not breathing. Recent statistics indicate that just 16 percent of the global population is trained to handle life-threatening circumstances.
In such situations, an emergency/CPR (Cardiopulmonary Resuscitation) service might play an important role. Even if your employees lack the requisite first aid or CPR training, you can engage a business that provides emergency/CPR services. Hiring such services might be of tremendous assistance in saving lives in perilous circumstances.
Let's learn more about the advantages of workplace emergency first aid/CPR services.
Our Security Team Reacts Instantaneously
Responsiveness is one of the major benefits of employing security guard services or emergency first aid/CPR. A professional security firm would know how to swiftly respond to such scenarios. Having a security company that offers emergency CPR services helps reduce workplace fatalities, dangerous events, and similar scenarios.
Are Security Guards Are Informed
An additional advantage of a skilled CPR provider is that these guards are trained to administer emergency first aid. They are educated in Emergency Medical Systems and are able to administer CPR to newborns, children, and adults. Such services necessitate a professional CPR certification, which includes both written and practical exams. If you wish to become certified in CPR, you can phone a national training organization to be assigned a trainer in your region.
Our Security Team is Taught Calmness
Since those trained in emergency first aid/CPR have received training expressly for emergency situations, they know how to respond and maintain composure. Anxiety and panic might cause additional harm. Professionals, on the other hand, will be able to address issues by preserving order in their surroundings.
XPressGuards Offers a Wide Range of Services
A security guard is charged with a variety of duties to ensure the safety of personnel. They protect the region from intruders and assist residents with evacuation and health concerns. Emergency first aid or CPR services may offer the following:
– Respond as a "team" to an emergency involving an adult or a child.
– Severe allergic reactions (Anaphylactic Shock)
– Secondary Review of Head and Spine Injuries
– Shock and blood loss
– Fainting
– Seizures
– Heat Cramps, Heat Stroke
– Muscles or joint injuries
XPressGuards Security Team Offers A Sense Of Safety
An emergency security firm with first aid services provides you and your employees with a sense of security in emergency situations and increases the value of your business. Hiring a first aid or CPR service might help you gain the trust and appreciation of your staff. If your employees believe that their services are valued by the company and that they are compensated fairly, they will think twice before leaving for another position.
About XpressGuards
XpressGuards is one of the nation's most professional security firms. We provide uniformed security personnel with first aid kits and CPR certification who provide professional services whenever and wherever they are required. We cover businesses, events, and many more to ensure the safety of all individuals. Contact us for further details.